Welcome to the TFL-approved fanlisting for the
WAREHOUSE 13 TV Character, Arthur "Artie" Nielsen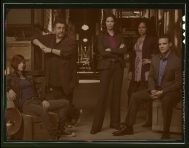 Veteran secret agent Artie Nielsen (played to perfection by Saul Rubinek) is in charge of Warehouse 13 — a highly-classified, top secret warehouse in the hills of South Dakota which stores strange, supernatural, mysterious, and sometimes dangerous artifacts. Artie monitors the world for any suspicious activity that might indicate the presence of an artifact that needs to be "snagged, bagged, and tagged" by his latest pair of warehouse agents, Myka Bering & Pete Lattimer. Artie's warehouse "family" also includes the local B&B innkeeper, Leena, and the steampunk technogeek Claudia Donovan who recently hacked the warehouse.
Are you an Artie fan? Then please read the rules and join the fanlisting.
What is a Fanlisting? In this case, it's a place for all fans of a particular television character to come together and build the biggest listing of people from all around the world who are fans of him. This site is a part of The Fanlistings Network, approved on 11-OCT-2009 by to be their only fanlisting for WAREHOUSE 13's Artie Nielsen in their TV Character category.
Pending members are checked for and approved daily.
List last updated: Tue Jul 11 16:55:10 2023