Welcome to the TFL-approved fanlisting for the TV show Wild West Alaska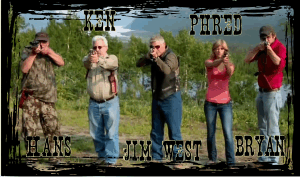 My husband (the gun collector of our family) and I (the webmistress of this site) both enjoy the reality series Wild West Alaska on Animal Planet. It's a fun to watch (Ken and Hans crack me up!) plus we get to learn a little more about Alaska, guns, and hunting with almost every episode.
Are you a fan of Wild West Alaska? Then please read the rules and join the fanlisting. For more info on Wild West Alaska, Wild West Guns, Jim West and his employees (Ken, Hans, Phred, Bryan, Mitch, et al.), check out the links on the Extras page while you are here!
What is a Fanlisting? In this case, it's simply a wee web site for all fans of a particular television show to come together and build the biggest listing of people from all around the world who are fans of it. This site is a part of The Fanlistings Network, approved on 09-FEB-2014 to be the only fanlisting for Wild West Alaska in their TV Shows category.
Pending members are checked for and approved almost daily. List last updated: Tue Jul 11 16:55:57 2023